Vladivostok Boat Show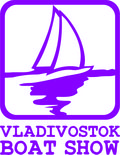 Vladivostok Boat-Show 2013
The Vladivostok Boat Show 2013, the international exhibition of yachts and clippers, will be held in Vladivostok for the fifth time on May 17-19. All the connoisseurs of an active sea-pastime will be able to acquaint themselves with the novelties of sailing industry and estimate the preciousness of living on seashore at its true worth.

For five years Yachts and Boats exhibition showed a huge potential of such event on the Far Eastern region of Russia. The Vladivostok Boat Show is not only an appropriate activity for a seaport-city, but also a rise of the city's status, a promotion on international level.

The fifth Vladivostok Boat Show 2013 became a welcome tradition, as well as a linking center for Russian and Asian-Pacific businesses.

One of the exhibition's purposes is to assist in the development of the industrial and service companies that operate on the sea-pastime market.

There is a huge benefit for participants of the exhibition (manufacturers and retailers of yachts, naval equipment, and associated goods and services of luxury-class) – getting access to new promising markets.

As always, the Vladivostok Boat Show 2013 is going to take place on the territory of the Seven Feet yacht club. Especially for the exhibition there will be built covered exhibition halls, where attendees will be able to familiarize themselves with the offerings of participating companies. The major part of exposition will be situated outdoors, which will contribute to the visibility of product brands and yachts.
Web-Site: www.expo.sfyc.ru
E-mail: vladivostokboatshow@gmail.com
Аdress: Vladivostok, Leitenant Shmidt St., 17-24
Organizing Committee of "Vladivostok Boat-Show 2013"
Additional Information
Yacht-Club "Seven feet" is located on the shore of the picturesque Fedorov Bay and it is the biggest club on the Far East of Russia. There is a great closed parking lot on the territory of the club and on the water as well, buffet, café, restaurant and Yachting equipment Shop.
The infrastructure of the Club has a high grade from Alexander Kotenkov, the President of russian yachting sport federation, who said that "Seven feet — is yacht club № 1 in Russia".

The greatest Russian regattas are taking place under the guidance of "Seven feet" yacht club: the International Yacht Sport Festival "Seven Feet Cub", "The Pyotr the Great Bay Cub" regatta, Russian championship in "Conrad 25R" class, Russian yacht championship in the open sea with yachts more than 35 feet according to ORC-club system.

For more information on yacht-club go to http://sfyc.ru.